The Consortium for School Networking (CoSN), in partnership with the Texas Association of School Administrators and CoSN's Texas state affiliate chapter, the Texas Educational Technology Leaders (formerly The Texas K-12 CTO Council), is honored to support the work of current and aspiring superintendents and district leadership teams in leading all aspects of digital learning transformations.
EmpowerED Superintendent edLeader Panel Broadcast Series
The EmpowerED Superintendents edLeader Panel broadcast series — sponsored by ClassLink — is now in its fifth season. Each monthly broadcast is co-hosted by CoSN, AASA, and edWeb.net. Participants can earn continuing education (CE) credits after viewing the live or recorded broadcasts. To learn more about CE credits please visit https://home.edweb.net/edweb-tips/
February 2023 edLeader Panel Broadcast
The most recent broadcast of the EmpowerED Superintendents edLeader Panel Broadcast, "Addressing Technology's Diversity and Equity Through District Policies, Practices, and Personnel," aired February 13. In this edLeader Panel broadcast, Dr. Nick Polyak, superintendent, Leyden High School District 212 (IL); Dr. Avis Williams, superintendent, NOLA Public Schools (LA); Dr. Kristi Wilson, superintendent, Buckeye Elementary School District (AZ); and Diane W. Doersch, senior director of Information Technology at Digital Promise and incoming chair of the CoSN Board, engaged in a discussion around how best to not only ensure equitable access and effective uses of technology for all the students and families in their school districts, but also how to promote diversity within district technology teams to better represent all the communities they serve. You are welcome to access the free EmpowerED Superintendents edLeader Panel Recording or Podcast version at https://home.edweb.net/webinar/supers20230213/.
CoSN Driving K-12 Innovation Report
CoSN recently released the 2023 Driving K-12 Innovation Report. The Driving K-12 Innovation Series is the process by which CoSN shares high quality trend reports regarding the use of emerging technologies to transform K-12 teaching and learning.
Through the Driving K-12 Initiative, a global advisory board of K-12 leaders, practitioners, and change-makers engage in discourse about the major themes driving, hindering, and enabling teaching and learning innovation in K-12 schools. The results of the advisory board's work is divided into three main categories: Hurdles, Accelerators, and Enablers. To learn which specific items fell into each of the three main categories as well as how to access the full report please go to https://www.cosn.org/edtech-topics/driving-k-12-innovation/. Plus, if you would like to be considered to be a part of the 2024 Driving K-12 Innovation Advisory Board, you will find a link to submit your notice of interest on that same webpage.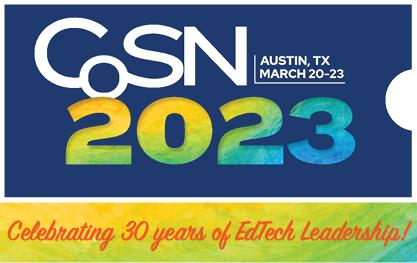 CoSN 2023 Conference
CoSN's 2023 Annual Conference is taking place in Austin, Texas, on March 20-23, 2023 (https://www.cosn.org/cosn2023/). The theme of this year's CoSN Conference is "Reimagine. Redesign. Renew." Multiple sessions for school leaders are included in the program, including panel presentation sessions by members of the CoSN/AASA EmpowerED Superintendents Advisory Panel.
CoSN & Texas Educational Technology Leaders (TETL) Membership
If your school or district would like more information about joining CoSN or getting more involved with CoSN, please contact membership@cosn.org. For information about Texas Education Technology Leaders, please contact Dianne Borreson, Executive Director, Texas Education Technology Leaders at exdir@tetl.org or call 855.458.9286.